Where Do I Find Ketogenic Diet Recipes
The ketogenic diet is a diet low in carbohydrates, high in fat and moderate in protein. The objective is for the body to use fat as fuel rather than glucose.
But,
If glucose has been your fuel of choice for a long time, you'll need a complete rethink about your food.
To make this major lifestyle change -
You'll need:
Tasty and easy to prepare ketogenic diet recipes, meal plans and quality information.
Here we look at the best places to find keto recipes and some good recipe books and programs.
But if you need more information rather than recipe options and ideas, then scroll around.
A good place to start is the Checklist section.
So...
Where to find the best recipes?
Fortunately for us the ketogenic diet has come a long way.
When you search Google, you can find any recipe you want. There are also plenty of delicious recipes on Essential Keto - right here.
My favorite low carb recipe developers are:
If you like videos, Youtube has some amazing food bloggers with lots of keto and low carb recipe ideas.
My favorite is - Headbanger's Kitchen.
If like me, you love Pinterest, you'll find it to be an amazing source for recipes.
Go here to see what we are up to on Pinterest.
My advise is to gather a handful of essential recipes which you can fall back onto when you are not sure what to cook.
My personal favorites are frittatas and this delicious and easy to make one dish chicken and cabbage meal.
With these types of recipes, you can easily tweak them to create divine dishes with whatever ingredients you have available in your pantry and fridge.
Personally, I like to collect recipes from all over the net. I will be sharing the best of the best on Pinterest.
Also...
When you decide which recipes are best for you, keep the following in mind:
Are You New to Keto or an Advanced Ketoer?
When you start out, you probably need some simple recipes and maybe also recipes that breaks down the fat, carb and protein content for you.
If you have been following a low carb diet for some time, you are probably more confident and happier to experiment.
Are You a Savvy Cook or a Novice?
If you are a savvy cook, then you are probably only looking for ideas and we got you covered with these low carb meal ideas.
Enjoy our ideas and recipes and let us know if we can help you in anyway.
Just have fun on Google!
Search for what you want to make and develop the recipes into master pieces that works for you.
If you are more of a novice cook or are worried that you will make mistakes then these Keto in Five eCookbooks could be a great fit for you.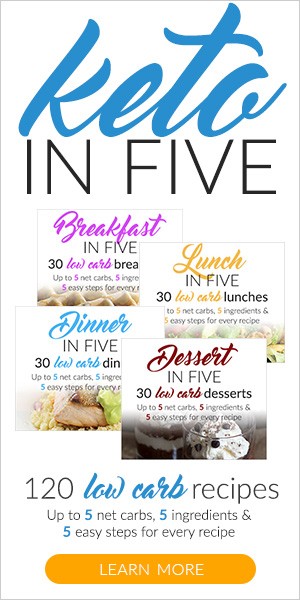 Each of their four recipe books have 30 recipes all made with 5 or fewer simple ingredients.
Click on the image above to go straight to their website or read our comprehensive review here.
How Much Time Do You Have?
Since I started Keto, I spent more time in the kitchen. But that doesn't mean that I spent hours making complicated recipes.
It is important to plan and prepare. If you know you won't have time during the week to prepare food, then use your weekend and prepare food for the week.
Some simple and delicious meals to prepare in advance are the essential ketogenic diet muffins, lasagnas, casseroles and curries.
There are many very elaborate keto recipes, but there are also the simple 5 ingredient type recipes like we mentioned above.
Keep it simple and it will be easier to successfully make the changes needed to adjust to your new lifestyle.
Do You Need Recipes or Meal Plans?
Some books or programs provide you with a number of recipes for specific meals like breakfast, lunch and dinner.
Others are packed with recipes for bread, which for many people is the toughest thing to give up, desserts or fat bombs.
Others are complete programs that explain the concept of a ketogenic diet, provide specific meal plans and also recipes.
When you start out and you want simple recipe books, the Keto in 5 books referred to above are great.
If you need more hand holding, there are two programs I like.
The first is from the same team at TasteAholics. They've put together weekly meal plans with recipes, grocery lists and everything you'll need to plan a whole week of meals.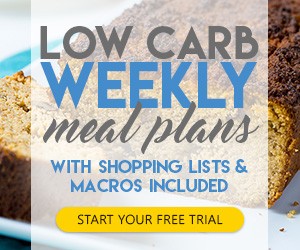 These are not free, but you can try their free 1 week trial to see if it is what you are looking for.
The second is from the team at Perfect Keto.
They've created a 30 day kick start program. It is free and they give you lots of resources to get you started with Keto.
Read more about it here or click on the image below to sign up and get going...
Finally...
Experiment and have fun!
You'll be amazed at how good low carb high fat food tastes. When we add fat back into our food, a whole new world opens up.
Once you get the hang of these recipes, you'll not see a low carb diet as a hardship, but rather as a joy.
So...
Decide how and why you want to change your lifestyle, find some good ketogenic diet recipes that you and your family love and get cooking...