1
Thin Stove Top Pepperoni Pizza Frittata Recipe [Easy Low Carb]
A quick low carb pepperoni and pizza frittata breakfast, brunch or lunch... 
This breakfast is perfect for you if:
You miss pepperoni pizza
and
are looking for a low carb alternative to satisfy your pizza craving.
It is not super low in carbs, but it is quick to make and delicious. 
Want to ketofy it? Then you'll want to check out our tips and ideas below.
How to Make a Pepperoni Pizza Frittata 
Watch the video for step by step instructions or scroll down for the printed recipe card...
Start out by warming a non-stick pan and then fry the pepperoni slices.
If like me, you love the smell of "pizza in the air", savor these moments.
Add the sun dried tomatoes, then the egg, followed by the peppers and the basil. 
Add the dried oregano and season to taste. 
Cook the eggs through and there you have it - a healthy low carb gluten-free meal with the taste of pizza!
All in just 10 minutes.
Yield: 1
Pepperoni Pizza Frittata Recipe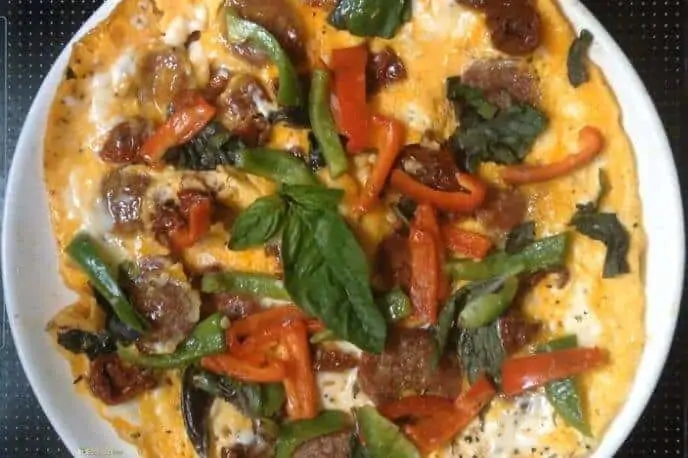 Thin stove top pepperoni pizza frittata or omelette.
Ingredients
15 thin slices of Pepperoni
2 large eggs
1/3 cup of sliced green peppers
1/3 cup of sliced red peppers
1/3 teaspoon of dried oregano
Salt and pepper to taste
12 fresh basil leaves
Instructions
Warm a non-stick pan over medium heat.
Add the pepperoni slices to the pan and lightly brown them on both sides.
Add the sun dried tomato and warm them with the pepperoni slices for 20 seconds or so.
Beat the eggs.
Add the eggs to the pan and spread them throughout the pan.
Add the green pepper.
Add the red pepper. You want to add both before the eggs set.
Scatter half the basil leaves onto the pizza before the eggs complete sets.
Sprinkle the dried oregano over the top.
Add salt and pepper to taste.
Cook the eggs through.
Transfer the cooked frittata to a plate.
Garnish with the rest of the fresh basil leaves.
Serve warm and enjoy...
Nutrition Information:
Yield:
1
Serving Size:
1
Amount Per Serving:
Calories:

313
Total Fat:

22g
Carbohydrates:

11g
Net Carbohydrates:

9g
Fiber:

2g
Protein:

21g
Nutritional information can vary depending on the specific ingredients you use. Always double check with a carb calculator like MyFitnessPal.
Wondering where is the cheese? Feel free to add some.
If you want to continue with the pizza flavors, add Mozarella. If you prefer stronger cheese, add a sharp aged cheddar.
But,
If you are looking for a dairy-free option, then it is perfect without the cheese.
And
If you are a purist, you'd want to leave out the peppers.
It is also a good idea to leave them out if you want to reduce the net carbs in your dish as they add three to four grams of net carbs to your pizza.
The other item that add to your carbs is the sun dried tomato. If you are keto and want your carbs lower, then half them or leave them out all together.
Don't Forget to Share or Pin it to Save for Later!
So, whether you call it a frittata or an omelette, this pizza inspired low carb breakfast is quick to make, delicious and perfect to satisfy a pizza craving without the added carbs.
And yes:
Nothing stops you from enjoying it as a filling brunch or lunch. Especially if you are following an intermittent fasting schedule where your first meal of the day is somewhat later.
A frittata is a great low carb meal option and if you have any leftover ingredients, play around and create something new.
Experiment!
and 
If you are looking for more ideas, here is another of my favorite frittatas.
If you need a more portable breakfast option, then you'll want to try this egg scramble in a mason jar.
Or
Had enough of eggs? Then you'll want to make one of these smoothies.
We'd love to hear from you. Please share your favorite keto breakfast recipes with us.