Egg Scramble in a Jar
An easy on the go bacon and egg scramble breakfast in a jar... 
This breakfast is perfect for you if:
You like your eggs fresh and not precooked the weekend before.
and
You have a microwave ready when you need it.
What makes it great is that, except for the chives and the seasoning, you can cut and dice all the ingredients ahead of time and easily store them all in your Mason jar.
How to Make Egg Scramble in a Jar 
Preparation
Get the full list of ingredients and the detailed instructions from the printable recipe card below.
Or watch the video for step by step instructions...
Here are the ingredients:
You'll want to start out with a medium Mason jar or any glass container really. Mason jars are versatile, they are plastic free and perfect to cook up a meal on the go.
(Oh and if you like the option to write on your jars, you'll need these lids.)
Add all the ingredients, except for the chives, to the Mason jar and store in the fridge until you are ready to cook your breakfast.
You'll want to follow the layering instructions in the recipe, because it is the best way to cook the dish and by adding the spinach just before the eggs you create a barrier between the wet ingredients and the eggs.
Cooking
When you are ready to prepare your meal, remove the eggs and microwave the rest of the ingredients right in the Mason jar for 90 seconds.
Then you'll want to crack the eggs into the jar, mix them into the veggies, season, add half the chives and return to the microwave for one to two minutes.
When cooked through eat your scramble straight from the jar or dish it up in a plate.
Easy as that! A freshly prepared meal in minutes!
This is a breakfast for 1 and the macros are...
I love how easy it is that I can prepare the ingredients ahead of time, but still have a freshly cooked breakfast whenever I want. 
Yield: 1
Egg Scramble Recipe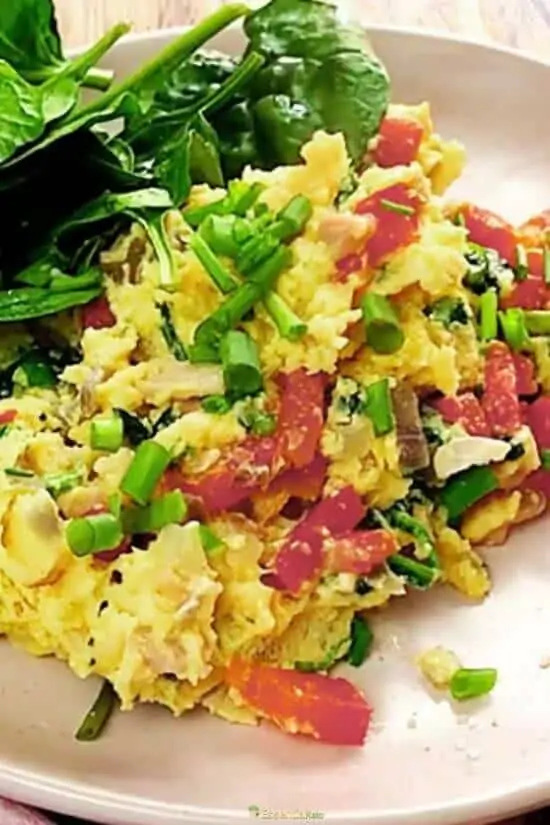 Easy Egg Scramble Breakfast in a Mason Jar
Ingredients
¼ diced red onion
2 oz diced shortcut bacon
¼ diced red bell pepper
¾ cup baby spinach leaves
2 large eggs
¼ cup chopped chives
Salt and pepper to taste
Instructions
Preparation
In a medium sized jar add the diced onion, bacon, bell pepper and baby spinach in
that order.
Add 2 whole eggs into the jar and close the lid.
Refrigerate the jar until you are ready to prepare your breakfast. ( No more than 3 to 4 days).
Cooking
Remove the lid and the eggs.
Microwave the first 4 ingredients in the jar on high for 90 seconds.
Stir the ingredients (be careful the jar will be hot).
Crack the eggs into the jar.
Add ½ the chives and season with salt and pepper to taste.
Gently mix the eggs into the bacon and vegetables.
Microwave for a 1 to 2 minutes until cooked through.
Garnish with the remaining chives and serve.
Enjoy!
Nutrition Information:
Yield:
1
Serving Size:
1
Amount Per Serving:
Calories:

289
Total Fat:

17g
Carbohydrates:

9g
Net Carbohydrates:

6g
Fiber:

3g
Protein:

24g
Nutritional information can vary depending on the specific ingredients you use. Always double check with a carb calculator like MyFitnessPal.
The main idea of this on the go egg breakfast is to prepare and prepack all your ingredients, so that you can set yourself up for success with your ketogenic diet.
Most people fail with this way of eating, because life gets in the way and they just grab whatever is available to eat.
Because you don't actually precook the eggs, you can work variety into your breakfast by varying the ingredients in your jar.
Plan and prepare a few of these simple recipes and you will not only have variety, but will know exactly what you are eating.
If you want to reduce net carbs in this egg scramble, then use less red onion. Half of the net carbs from this dish come from the onion.
Use green peppers as they have a little less carbs than red peppers. You'll lose the beautiful colors of the dish, but your meal will still be tasty.
If you want to add more fat to this meal, you can add cream when you add the eggs.
Or you can sprinkle a spoon of MCT oil over your finished breakfast.
You can use any leftover ingredients, just be sure that they are still fresh enough to stay in the jar for three to four days.
The other thing to consider, is that you want to be able to easily cook the ingredients together in the microwave.
Don't Forget to Share or Pin it to Save for Later!
As you know eggs are a staple on the keto diet and there are many ways to precook them, so that they just need to be warmed up. 
But,
With this egg scramble in a jar, you can do all the preparations and still make a tasty freshly prepared meal in minutes.
We realize that when you think Mason jar breakfast, you may not be thinking eggs. If you are looking for a keto friendly overnight "oats" recipe, then you may want to check out this recipe from Kettle and Fire.
When you get tired of eggs (and yes it does happen for most of us) why not try one of these delicious low carb smoothies.
Or my favorite - Chia and vanilla breakfast smoothie
We'd love to hear from you. Please share your favorite keto breakfast recipes with us.