Low Carb Breakfast Bars Recipe
Delicious grain free and sugar free low carb breakfast bars...
These low carb granola bars are a great alternative to eggs and they are ideal to pack as a portable on the go breakfast.
No matter whether you love eggs or not, eventually we all get tired of them and need something different.
These bars are crunchy, delicious, filling and feels like they are higher in carbs than they really are.
But
They are not super low in carbs and if you want to ketofy them, then check out how to lower the carbs in our tips section below.
How to Make Grain Free Granola Bars 
Watch the video for detailed instructions or scroll down for the printed recipe card...
Let's get this crunchy breakfast going...
Start out by preheating your oven.
Then use a food processor to break up the walnuts, pumpkin and sunflower seeds and finely shred the coconut. If you are in need of a blender or food processor, you might find this review helpful. 
Whisk the egg and vanilla together.
Combine the rest of the dried ingredients and the ingredients from the food processor. 
Add the melted coconut oil and the egg mixture into the dry ingredients and combine well.
Press the mixture into a lined baking tray and bake for 20 minutes.
Let it cool and slice into ten bars.
There you have it, crunchy and gluten free on the go breakfast bars that you can prepare over the weekend and have ready for breakfast in no time...
This recipe makes 10 bars and the macros per bar is...
I love how I can enjoy the crunch of granola without the carbs, sugar and gluten. 
Yield: 10
Low Carb Granola Bar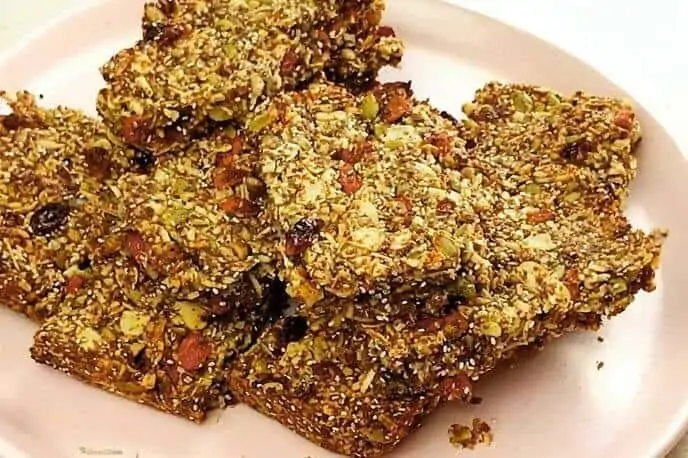 Healthy nutrient rich sugar and grain free granola bars
Ingredients
1/2 cup unsweetened shredded coconut
1/2 cup pumpkin seeds
1/2 cup walnuts
1/2 cup sunflower seeds
2 large eggs
1 teaspoon vanilla extract
3 tablespoons stevia or sweetener of choice
3 tablespoons chia seeds
1/2 cup flax meal
1/3 cup goji berries
1/2 cup flaked almonds
1/3 cup melted coconut oil
Instructions
Preheat oven to 350 degrees F.
Add coconut, pumpkin seeds, walnuts and sunflower seeds to a food processor.
Pulse for about 20 seconds until they are combined and broken up but still resemble seeds and nuts.
Whisk the eggs and vanilla extract together in a bowl and set aside.
In a separate bowl, add the mixed ingredients from the food processor, stevia, chia
seeds, flax meal, goji berries and almond flakes.
Stir to combine and then make a well in the center of the dry ingredients.
Add the melted coconut oil and egg mixture into the well and stir until it is well combined into a batter.
Press the gooey batter into a lined baking pan and bake for 20 minutes.
Let in cool completely in the pan and then slice into 10 slices or smaller if you wish.
Store in an air tight container and enjoy an easy portable breakfast or snack.
Nutrition Information:
Yield:
10
Serving Size:
1
Amount Per Serving:
Calories:

414
Total Fat:

35g
Carbohydrates:

18g
Net Carbohydrates:

8g
Fiber:

8g
Sugar Alcohols:

2g
Protein:

12g
Nutritional information can vary depending on the specific ingredients you use. Always double check with a carb calculator like MyFitnessPal.
Like I said earlier, these breakfast bars are low carb, but if you follow a strict keto diet, the carbs may be a little high.
To reduce the net carbs, half the dried goji berries and if you are strict keto, you'll want to take them out altogether.
The same with the shredded coconut.
You can also cut the bars in half and reduce the portion size that way. Especially if you'd like to enjoy these as a snack.
I find coconut to be quite sweet. So these bars don't need much sweetener. But as always experiment to see what works best for you.
On another note, always be sure that your seeds are fresh. If they are rancid, don't eat them.
Don't Forget to Share or Pin it to Save for Later!
These bars are not chewy, they are crunchy. If you are looking for a chewy bar, then check out this one from Carolyn at All Day I Dream About Food. 
Carolyn says that initially her granola bars were too crumbly.
She didn't want to add honey for obvious reasons, but she experimented and found that grass fed collagen did the trick. She says that her no bake granola bars now holds together well.
If you find that your mixture is too crunchy and does not combine well, try Carolyn's trick or you can also add a little bit of water.
If you are looking for a low carb granola, why not crumble these up? They are crunchy enough!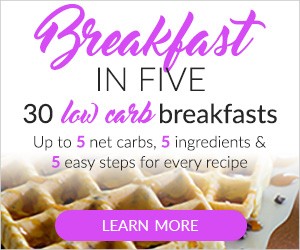 This is not a breakfast that you necessarily want to indulge in every day, especially if you crumble it up and eat it with yogurt.
But the crunch is awesome and it is very convenient for when you are rushing around and don't have much time to prepare or eat breakfast.
That's it! But do check out more ketogenic breakfast ideas here.
Or
For another very popular on the go breakfast or brunch option that you can prepare ahead of time try our scrambled eggs in a jar.
And -
If you've followed Essential Keto for a while, you know that I love frittata. Try this pizza one. It is full of flavor!
Or need something green for breakfast?
Then you'll want to try your hand at one of these smoothies.
Will you be making this low carb breakfast bars recipe? Or if you've made it, please share your experience with us...