4
Thai Chicken and Vegetable Soup to Overcome Your Winter Carb Cravings
Quick to make, scrumptious, and hearty Thai chicken and vegetable soup for anybody searching for low carb comfort food this winter…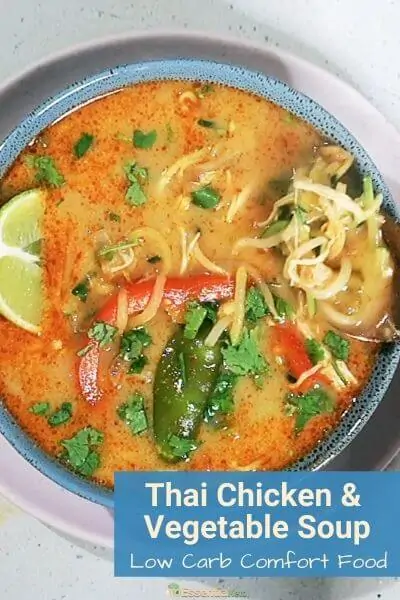 Updated now with a printable recipe card…
I love salads and light foods throughout summer, but as the cold winter sets in, what can be better than a good hearty soup?
As keto goes, I see myself more as a carnivore, but there are times when I really need more vegetables.
I suppose in winter my body always needs more comfort food and traditional comfort food means high carb – potatoes and pasta.
With this Thai chicken vegetable broth, I can indulge my comfort food need without a hectic amount of carbs.
It is packed with bell peppers, snow peas, bamboo shoots, and zucchini satisfying my carb need with no starch low carb vegetables.
If the carbs are too high for you, then check my tips below to easily reduce the carb count.
Oh and yeah, it is a spicy Thai inspired soup. So as you expect it is bursting with flavor.
But, it is not a Thai soup in the traditional sense, no fish oil, soy sauce or added sugar. It really is a simplified version where the Thai taste originates purely from the red Thai curry paste.
But, don't take my word for it, watch the video and then get the recipe below, Enjoy…
The recipe serves 4 and the macros for one serving is as follows...
Always double check your ingredients and calculate your own macros using a tool like MyFitnesssPal.
The total carbs per portion is 9 grams with almost half coming from fiber.
So, if you feel that your ketogenic diet does not provide you with enough fiber in your daily diet, then hearty soups like these can help you add more fiber.
I love how nutritious, delicious and full of flavor this soup is that it is high in fiber with lots of nutrients from the veggies and the chicken broth.
Yield: 4
Thai Chicken & Vegetable Soup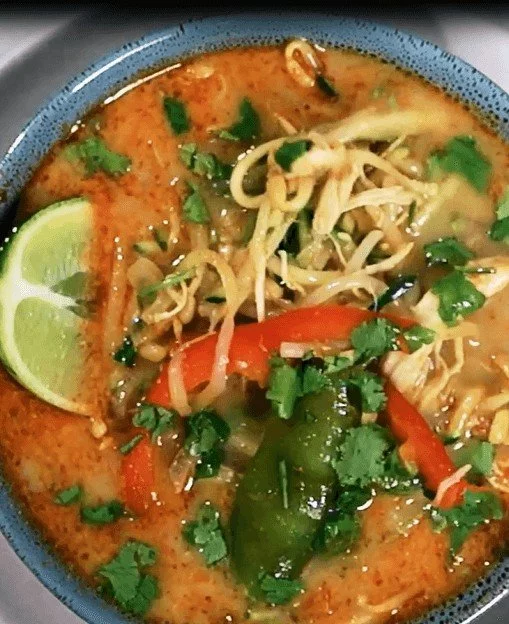 Low carb chicken and vegetable soup...
Ingredients
2 tablespoons of olive oil
½ a diced red onion
3 chopped green onions
2 tablespoons of red Thai curry paste
1 sliced red pepper
4 cups of chicken broth
2 oz. of snow peas
4 oz. of bean shoots
8 oz. of shredded cooked chicken
1 medium spiralized zucchini
½ a cup of coconut milk
1 oz. of chopped cilantro
1 lime quartered
Instructions
Heat the oil in a large pot.
Then add the red onion to the hot pan and fry until they start to brown.
Add the green onion and the curry paste and fry.
After a few minutes add the bell peppers and fry for two more minutes.
Pour in the chicken broth and simmer for 15 minutes.
Now add the snow peas, bean shoots, and shredded cooked chicken and simmer slowly for 5 minutes.
Add the zoodles and simmer for 2 more minutes.
Stir in the coconut milk and remove from the heat.
Dish up and serve with a sprinkle of lime, cilantro, and a wedge of lime...
Nutrition Information:
Yield:
4
Serving Size:
1
Amount Per Serving:
Calories:

194
Total Fat:

10g
Saturated Fat:

0g
Trans Fat:

0g
Unsaturated Fat:

0g
Cholesterol:

0mg
Sodium:

0mg
Carbohydrates:

9g
Net Carbohydrates:

5g
Fiber:

4g
Sugar:

0g
Protein:

17g
Nutritional information can vary depending on the specific ingredients you use. Always double-check with a carb calculator like MyFitnessPal.
I used to think soup has to be cooked for a long time. That is how my mother and aunts cooked it when I was a child.
But they always had beans, lentils or raw meat in their broths, so it needed longer cooking times.
All the ingredients in this recipe work well as "al dente" and none of the ingredients require a long cooking time.
But of course as with all soups and curries, you'll find that the flavor intensifies over time, so your dish is likely to have a richer and more delicious taste the following day.
The stock is relatively salty, but as we are not adding fish sauce like with most Thai dishes, you may need a little more salt.
I always need more salt, so I usually mix it in before I pour in the coconut milk or otherwise directly into the bowel when I eat my broth.
If you want to reduce the net carbs, replace the pea shoots with zucchini or another lower carb vegetable.
I love cabbage, so tend to add it into many of my meals. It does however have a strong flavor, so if you don't want to change the taste, stick with more neutral vegetables.
If you'd like to increase the fat content, you can add a tablespoon of MCT oil just before serving. It is flavorless, so won't impact the taste of your soup. 
Each tablespoon contains about 14 grams of fat, so it is a really easy way to increase the fat content of a dish.
Don't Forget to Share or Pin it to Save for Later!
What about You? What vegetables do you like to in your Thai chicken vegetable soup?
Want more soup recipes? Then try these instant pot recipes. They are all easy to make and delicious.