Is Ghee Keto Friendly
Are ghee and clarified butter the same thing and are they keto-friendly?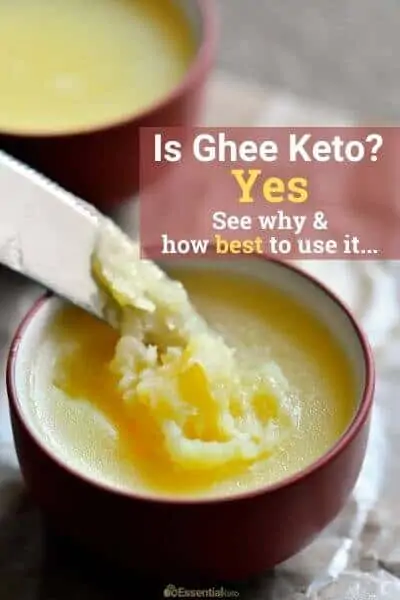 So,    
You've started keto and are looking for the best cooking oils and now you are asking whether you can use ghee to cook with?
Or whether you can use it in your coffee?
The…
Short Answer
Yes!
Why?
The simple answer is that ghee is a good healthy fat source and has no carbohydrates!
Okay, let's talk about ghee – what is it? Why is it good for keto cooking and how much can you eat?
What is Ghee?
It is the butterfat that is left over after the water and milk solids are taken out of butter.

Ghee is made by melting good quality unsalted butter over low heat. Once it is melted it is boiled at a very low temperature until it splits into three layers.
The foam layer is removed whilst the butter is cooking.
Once the cooking process is complete the milk solids is strained leaving only the butter fat or clarified butter.

When the clarified butter is removed as soon as the butter has split into the different components, it is known as clarified butter.

However if it is cooked for a little longer until the milk solids are slightly browned, the clarified butter becomes nutty and fragrant and darker in color.

Now we have ghee! (pure butter fat)
Yes, we know it is a good quality fat with zero carbohydrates but let's have a quick look at the macros...
Macros
Ghee
The macros per tablespoon -
Some sources show 13 grams of fat. That is closer to the macros for butter.
It differs depending on how the ghee is made, from what animal the milk is obtained from and the feed of the cows, goats, buffaloes or sheep.
If you buy ghee, then always check the labels and if you make your own, check the composition of the butter you are using.
Clarified butter 
The same as ghee.
Glycemic Index (GI)
Ghee has no sugar - no carbs - so it does not impact blood glucose levels. 
You may wonder -
If ghee is made from butter which is made from milk, isn't there sugar in it?
But no, the sugar is removed during the cooking process - so by the time you consume ghee, you are ingesting pure fat.
However,
Drizzling ghee over your favorite vegetables can slow the conversion of starch to sugar and thereby lowering the glycemic index.
When adding a good quality fat to your carbs, you improve the GI of your overall meal.
Benefits
If you are asking why to use ghee and not regular butter, here are some of the benefits of using ghee.
But
You really want to use both as both butter and ghee have an important place in ketogenic cooking.
Find the detailed breakdown of the nutritional composition of ghee by the USDA and if you are interested in the different nutritional profile between ghee from cows and that from buffalo, then go here.
Best Sources
Make it Yourself!
If you decide to make your own, be sure to start out with good quality unsalted grass-fed butter.
My favorite is Kerry Gold, but this is a good opportunity to support a local farmer.
Buy it Ready Made!
As ghee is becoming more and more popular, you have lots of buying options.
This is a popular make -
We reviewed the five top ghee products. Go here for the inside scoop.
How to Eat it
There are many ways to use ghee in your ketogenic diet. These are our top three...
Frying
As mentioned earlier ghee has a high smoke point so it is perfect for frying food.
Melt over Vegetables
Melt it over your veggie.
Not only will the nutty fat improve the taste of the vegetables, but it will also lower the GI of your meal.
In Your Coffee
If you've been on keto for a while, you've probably tried butter and or MCT oil in your coffee. Why not give ghee a go?
You may also want to try ghee in your coffee if you are trying to cut dairy out of your diet. 
Conclusion
In conclusion to the question - Is ghee keto?
The answer is yes.
And not only is it a great addition to your keto diet, when eaten with vegetables it reduces the GI of vegetables making them even healthier to eat.
And yes, the same goes for clarified butter as the only real difference between it and ghee is the nutty flavor.
And in case you want to ask about regular butter - 
Yes, go for it!
Keto Stamp of Approval?
Ghee and clarified butter are keto approved.
And are very much party of a healthy low carb high fat diet.