20 Minute Zucchini Noodles with Avocado Pesto and Shrimp Recipe
Rich and zesty low carb zucchini pasta that you can make in less than 20 minutes...
Zoodles may not be super low carb and you may not be able to work them into your keto diet on a daily basis.
But...
They are low carb and they are super versatile.
Do a general internet search for zucchini recipes and you'll see just how popular this humble vegetable is.
If you are here for this delicious zucchini noodles with avocado shrimp pesto recipe, scroll down - watch the video and then try the recipe today...
If you are looking for more zucchini recipes, you'll want to check out our 31 easy keto zucchini recipe roundup.
Or if you don't have a spiralizer yet and want some advice on how to choose the right one for you, then this is where you'd want to go.
Now back to our avocado shrimp zoodle recipe…
Watch how it is made here:
If like me, you love to look at how a recipe comes together - then follow along.
If you just want the recipe or want to print it? Then scroll down to the recipe card...
Let's start with the pesto...
Combine the avocado, Cheyenne peppers, garlic, basil, olive oil and lime in a food processor... 
And the result - a zesty avocado pesto - the perfect accompaniment for the shrimp zoodles...
Then let's move on to the hero of the dish...
Gently fry the shrimp and zucchini until warmed through.
Combine the pesto and the shrimp zoodles...
Here are the macros per serving...
This recipe serves 2.
I love the richness and the zingyness of the pesto combined with the lightness of the shrimp and zucchini.
It is a super quick lunch or dinner perfect for a late summer day when you have an abundance of zucchini in your garden.
Yield: 2 Servings
Zucchini Noodles with Shrimp and Avocado Pesto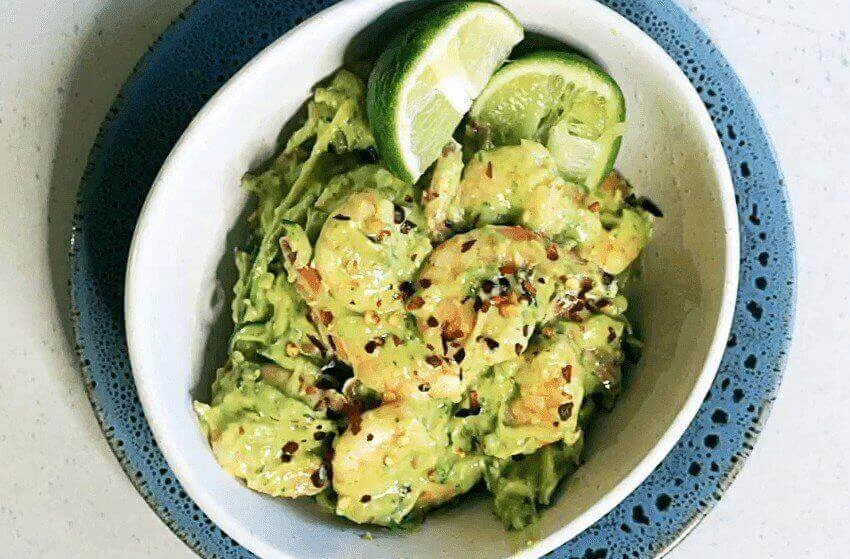 Delicious and light low carb shrimp and zucchini lunch or midweek dinner...
Ingredients
Pesto
2 Avocados
1 Cayenne Pepper (Seeds removed)
2 Cloves of Garlic
Juice of 1 Lime
1 Cup of Basil Leaves
2 Tbsp of Extra Virgin Olive Oil
Shrimp Zoodles
1 Tbsp of Extra Virgin Olive Oil
8 Oz of Cooked and Peeled Large Shrimp
1 Large Spiralized Zucchini
1/2 Tsp of Red Chili Flakes
Juice of 1/2 a Lime
Instructions
Start out with the pesto by adding all the pesto ingredients into your food processor and blend until smooth.
Then warm a skillet and add the olive oil or your cooking oil of choice.
When your skillet reaches medium heat, add the cooked shrimp, the lime juice and the chili flakes and gently heat through. 
Add spiralized zucchini and saute for 2 to 3 minutes.
Add the shrimp zoodles into a big bowl.
Add the pesto the and gently combine.
Serve in a small bowl topped with a pinch of chili flakes and a squeeze of lime juice.
Enjoy...
Nutrition Information:
Yield:
2
Amount Per Serving:
Calories:

585
Total Fat:

47g
Carbohydrates:

21g
Fiber:

11g
Protein:

15g
Nutritional information can vary depending on the specific ingredients you use. Always double check with a carb calculator like MyFitnessPal.
If you eat twice a day, then 10 carbs per meal is spot on.
But
If you'd like to lower the net carbs, you can use 1 avocado for 2 servings rather than 2 avocados.
The majority of the carbs are from the zucchini though.
So the only way to really reduce the carbs is by using a medium zucchini rather than a large one. But then the portions will get small.
Enjoy the abundance nature offers us this time of the year.
Don't Forget to Share or Pin it to Save for Later!