The Best Low Carb Vanilla Cupcake Recipe with Lavender
Elegant and moist vanilla cupcakes with lavender perfect for Spring, Mother's day or as a birthday treat…
Want to surprise mom with a classic low carb gluten free cupcake that is tasty and looks amazing? Then this easy to make cake is the one you'll want to try...
This simple vanilla cupcake is the base recipe I use when I make cupcakes. 
Why you may ask?
It is because I find low carb baking a little tricky and once I find a recipe that really works, I stick to it! 
This recipe delivers the best vanilla cup cake that is moist and fluffy with the perfect consistency.
It is like a clean canvas - you can get creative and with this base you can add flavors and colors and even turn it into the perfect birthday cake for a little girl like with this keto funfetti birthday cupcake.
Best of all with the blend of ingredients you can easily keep the net carb count to 5 grams or less per little cake.
So let's start...
But!
If you just want the recipe or want to print it scroll down to the recipe card...
Make Low Carb
Vanilla Lavender Cupcakes
Let's have a look at the ingredients...
If you've been following a low carb diet for a while most of these ingredients, except for the lavender, are probably staples in your pantry.
The full list of ingredients are set out in the printable recipe card below.
Now, we can get going with the batter...
Combine the butter and erythritol and mix well. Then add all the wet ingredients and the lavender.
If you are making the vanilla cupcake, you follow all the same steps and just leave out the lavender.
After that you'll want to add the dry ingredients and mix gently. Be careful not to over mix as the tops of the cupcakes may crack if you do.
Then fill the cupcake liners evenly and bake.
Lastly frost your beautiful lavender vanilla cupcakes...
Mix the ingredients for the buttercream icing and use a round icing tip and some dry lavender for this elegant creation.
Do you worry that you can't duplicate these swirls? Then watch Lindsay from Lindsay Anne Bakes demonstrate how it is done...
The macros per serving...
This recipe makes 12 cupcakes.
I love how beautiful and elegant these little cakes are and how perfect they are for a Mother's day surprise. 
Yield: 12 Cupcakes
Lavender Vanilla Cupcakes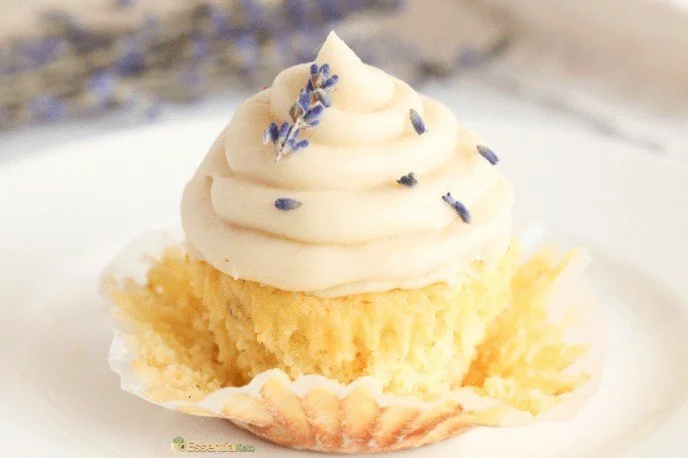 Elegant and feminine low carb vanilla lavender cupcake. The best basic vanilla cupcake recipe...
Additional Time
15 minutes
Ingredients
Cupcakes
1 Cup of softened butter
4 Eggs at room temperature
1 Cup of sour cream
1 Tbsp of vanilla
½ Tsp of lavender extract *
1 Tsp of culinary lavender
¾ Cup of fine almond flour
¾ Cup of coconut flour
1 Tsp of baking powder
Icing
4 Tbsp of softened butter
1 Tsp of vanilla
1 ½ Cup granulated sweetener like erythritol
2 Tbsp of heavy whipping cream
1 Tsp of culinary lavender for garnish
Instructions
Preheat your oven to 350 degrees.
Line a 12 cup pan with cupcake liners.
Combine the room temperature softened butter and sugar with an electric mixer.
Add the eggs, sour cream, vanilla and lavender extract or essential oil. You can adjust the amount of lavender according to your preferences. Mix thoroughly.
In a separate bowl, whisk together the almond flour, coconut flour, baking powder and 1 tsp culinary lavender.
Add the dry ingredients to the wet ingredients. Stir very gently, mixing only until just combined.
Fill cupcake liners equally with batter about two thirds to the top of the liners.
Bake for about 25 minutes or until toothpick inserted in center comes out clean.
Cool completely.
In the mean time, make the icing by mixing all the icing ingredients, except for the culinary lavender, together with an electric mixer on low speed. Mix until smooth.
Ice the cupcakes with a piping bag using a flat tip.
Garnish with culinary lavender.
Surprise your mom or friend...
Notes
*OR add a few drops of food grade lavender essential oil.
The dried culinary lavender is optional, but definitely adds to the elegance of this simple cupcake.
Nutrition Information:
Yield:
12
Amount Per Serving:
Calories:

314
Total Fat:

28g
Carbohydrates:

7g
Fiber:

3g
Protein:

4g
Nutritional information can vary depending on the specific ingredients you use. Always double check with a carb calculator like MyFitnessPal.
When you find a recipe that works for you, stick to it. 
If you like basic vanilla cakes, you won't easily find a better batter than this one.
To change it up, make a cream cheese frosting like this one from Low Carb Maven.
If you want a rich and decadent decoration, why not try our avocado chocolate mousse. You'll find the recipe here in our 21 amazing snacks to make the keto diet section.
I love the lavender frosting because it is feminine and elegant. 
Lavender is an edible plant, but make sure you use lavender that has not been treated with pesticides. If you are unsure, rather purchase culinary lavender. 
If you want to use a lavender essential oil, then just be aware that it is more potent than lavender extract. You'll only need a few drops. Start with a few drops and adjust according to your taste. 
If you are looking for a super floral treat, feel free to add some extract or essential oil to the frosting as well. But again let your taste buds tell you how much.
Don't Forget to Share or Pin it to Save for Later!
Also we'd love to hear from you.
Please share your mother's day low carb ideas with us and if you are looking for more treats for special occasions, check out these delicious desserts.