Stur Natural Water Enhancer
If you want to live healthily, you need to find ways to drink enough water.
Good clean water is an important part of any healthy lifestyle, and it is especially important if you are on the keto diet.
But,
It doesn't have to taste bland and boring!
You can use natural enhancers to give your water plenty of flavor, without adding any fat, calories, or carbs.
For instance, you could use Stur Natural Water Enhancer, which is loaded with flavor, but has none of the bad stuff.
This water enhancer, which is available in many flavors, will give your water that extra boost to make it taste great, while still being good for you.
If you are wandering why you are more thirsty on keto, then this article explains it.
What is Stur All Natural Water Enhancer?
This all natural flavor enhancer for water comes in delicious fruit flavors, including strawberry watermelon, blue and blackberry, lemonade, coconut pineapple, peach and many more.
It has zero sugar, zero calories, and is gluten free. It is also loaded with vitamin C, and it is even kosher.
There are no artificial flavors, artificial colors, or artificial sweeteners. It is all natural, and it is good for keto diets.
You can easily add Stur All Natural Enhancer to water, or even to clear sodas or soda water to add a natural and delicious taste.
Each package contains five bottles of flavored water enhancer, or enough to make 100 drinks.
Of course, if you like a more intense taste, you may not get 100 drinks, but for the price, even if you only get 75-80 drinks, it is more than worth it.
It is so easy to use and as it is so highly concentrated, you only need a few drops to add loads of flavor to an 8-ounce glass of water.
There is no need to refrigerate it and it can also be added to mocktails and to your favorite Soda Stream drinks.
Sometimes I use them for flavoring cream cheese desserts or to make fat bombs.
Stur Natural Flavored Water Enhancer was made with families in mind.
In fact, it was created by a man who wanted to find ways for his wife, who was pregnant with twins, to drink more water and actually enjoy it.
Upon looking at drink mixes in stores, he found that they were all full of unhealthy chemicals.
So, with the help of a food scientist friend, he was able to create a blend of natural fruit flavors and natural stevia leaf extract to flavor water.
Here are a few things you can expect from these tasty drops:
What I Like about these All Natural Water Enhancers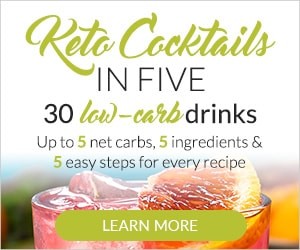 The Downside
There are some stores that sell Stur products as a weight loss drink.
Remember, while this is a good drink for weight loss programs, including the keto diet, it is not going to actually be the cause of weight loss. The whole idea of these products is to increase water intake, not to lose weight.
Another issue is that many dietitians worry that people are using too much water enhancer. By doing so, they are going well over the recommended daily amount of vitamin C and stevia.
Alternatives
There are some alternatives to Stur and with this being growing market, expect new products to reach the market over the next few years.
One alternative is MIO, but it is made with sucralose and personally I prefer not to include sucralose in my diet.
Another alternative is Sweatleaf Stevia Natural Water Drops. It is sweetened with stevia and is also naturally flavored.
On a container by container comparison, they appear to be somewhat cheaper and may be worth trying as well.
Bottom Line
Whether you are on the keto diet, or you are just trying to maintain a healthy lifestyle or lose weight, it is necessary to drink plenty of water every day. But, many of us just don't enjoy water, so we don't get enough.
Using Stur Natural Water Enhancers can make water enjoyable. There are no unhealthy side effects of this drink additive, and it contains necessary vitamin C.
As long as you aren't going overboard in how much you use, it should be perfectly fine to include this product in your keto way of life. 
It is not meant to be a strong flavor, so you only need to use a few drops to get a mild tasty drink.
You will be able to stay hydrated, and not have to worry about any artificial flavors, colors, sweeteners, or preservatives that are not healthy for anyone.
Oh yes and if you are new to keto, you'd want to check out our keto diet checklist, our shopping list and our food swaps that will help you to transition to a keto way of eating.