Ranch Pork Chops with Broccoli Salad [Easy Keto]
Enjoy Ranch pork chops with broccoli or stuffed mushrooms or garlic sesame kale as an easy keto weeknight dinner for the whole family.
Updated: Now with printable recipe card and macros.
If you are one of the many mothers who cook a low carb meal for yourself and then cook a "normal" meal for your family, I sympathize.
I hope you will find that your kids will enjoy this recipe.
You can add potatoes into the oven with the pork chops if you are concerned that this will not be enough food for growing teens.
For another recipe that your kids will love try this stuffed chicken breast recipe.
Or these tender and juicy pork chops cooked within 30 minutes in a skillet.
To prepare this ranch pork chops with broccoli salad recipe, you'll first need the ranch seasoning.
You can make it yourself as per the recipe below or you can buy a gluten-free ranch flavoring like this one.
This meal serves 4 and the macros for one serving is as follows...
This is just an indication, all always double check the macros of any meal based on your specific ingredients.
There you have it - delicious ranch pork chops with broccoli salad for dinner. Let's start cooking...
Yield: 4
Ranch Pork Chops & Broccoli Salad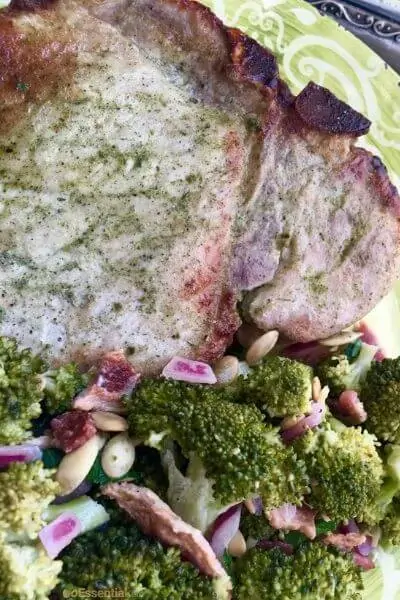 Oven-roasted on-the-bone ranch pork chops with broccoli salad...
Additional Time
20 minutes
Total Time
1 hour
20 minutes
Ingredients
Ranch Seasoning
1 tablespoon of dried organic dill weed
3 tablespoons of freshly chopped parsley
2 teaspoons of organic garlic powder
2  teaspoons of organic onion powder
2 teaspoons of sea salt
½ a teaspoon of freshly ground black pepper
Pork Chops
4 on-the-bone pork chops
2 tablespoons of ranch seasoning
2 tablespoons ghee or butter
Salt and pepper to taste
Salad Dressing
2 tablespoons of fresh lemon juice
1 tablespoon of fresh lemon zest
A pinch of stevia powder
Himalayan or sea salt and freshly ground pepper to taste
Broccoli Salad
2 small or 1 large head of fresh broccoli broken into florets
6 slices of crispy cooked bacon, crumbled into small pieces       
⅓ cup of unsalted and toasted pumpkin seeds
½ a small red onion cut into thin slices
 ¼ cup of freshly chopped parsley
 Salt and pepper to taste
Instructions
Prepare the Seasoning
Mix all the ingredients together.
Keep 2 tablespoons for the ranch pork chops and store in an airtight container.
Cook the Chops
Preheat your oven to 400°F.
Line a baking sheet with parchment paper.
Rub each chop with 1/2 a tablespoon of the ranch seasoning until completely coated.
Let it rest for 10 to 15 minutes.
Add butter to a non-stick skillet and warm over medium heat.
Add the seasoned pork chops to the warmed skillet and sear the chops on both sides until they are brown. (About 2 1/2 minutes on each side.)
Transfer the browned pork chops onto the baking sheet.
Place it into the heated oven and roast the chops on one side for 8 minutes.
Turn over and roast for another 8 minutes.
Remove from the oven and let it rest for a few minutes.
Make the Salad the Day Before
First make the dressing by combining yogurt, juice, zest, and stevia in a small bowl.
Season with salt and pepper and store in the refrigerator until needed.
To cook the broccoli, add the florets into a large, microwave-safe dish with 2 to 3 tablespoons of water.
Cover the dish and microwave the broccoli on high for 2 to 3 minutes.
Check the broccoli for tenderness and microwave for another 2 to 3 minutes. You want them to be crisp, but tender.
Remove the broccoli and drain the water.
Let the broccoli cool down for about 5 minutes.
Add the broccoli, crumbled bacon, red onion, and fresh parsley in a large glass bowl and toss gently.
Add the dressing and toss gently until all the ingredients are thoroughly coated with the dressing.
Cover and refrigerate overnight.
When ready to serve, sprinkle the toasted pumpkin seeds over the broccoli.
Serve the chops with the broccoli salad. For more ideas for side dishes scroll down...

Notes
For more tips to roast the perfect pork chop scroll down...
Nutrition Information:
Yield:
4
Serving Size:
1
Amount Per Serving:
Calories:

522
Total Fat:

38g
Saturated Fat:

0g
Trans Fat:

0g
Unsaturated Fat:

0g
Cholesterol:

0mg
Sodium:

0mg
Carbohydrates:

15g
Net Carbohydrates:

3g
Fiber:

0.2g
Sugar:

0g
Protein:

32g
Nutritional information can vary depending on the specific ingredients you use. Always double-check with a carb calculator like MyFitnessPal.
For the perfect ranch seasoning for your palate, you'll have to experiment with the combination until you get the flavor that works best for you.
When it comes to seasoning remember that it has more carbs than you may think.
Also remember that the seasoning includes salt and pepper, so you don't need to add more.
If you do like more salt, be sure to add it to the chops before you fry them in the skillet. This way you seal the flavor in.
For the perfect roasted chop, you'll want to ensure that you don't overcook it.
This recipe is for a thick 1-inch chop. If you prefer your pork chops to be thinner, then reduce the roasting time to roughly 6 minutes per side.
The best way to make sure you don't overcook your chops is to use a thermometer which you want to insert into the thickest part of the meat.
For a rare to medium chop, the reading should be 145 degrees Fahrenheit and 160 degrees for a medium chop.
This salad with its complex flavors is best prepared in advance.
I make it the night before, but you can also make a batch on the weekend as it will last in the fridge for a few days.
The longer you leave it the more the flavors will develop.
If you don't want to serve a main and a side dish with pork, then try one of these side dishes...
Garlic Sesame Kale
Fry chopped garlic in your preferred oil. Then add a bunch of kale and sauté for a few minutes until wilted.
Add some sesame oil, salt and pepper and sesame seeds just before serving and you have a delicious side dish in minutes.
You can make this while the pork chops are roasting in the oven.
Or what about these yummy feta stuffed mushrooms.
This is another quick recipe that you can finish off whilst the pork chops are in the oven. Watch the video now and then check out the recipe and instructions here.
For lots more side dish ideas, check out these 35 low carb keto side dishes.
The dishes include ideas for recipes with cauliflower, Mediterranean veggies, cabbage, mushrooms, green leafy vegetables, other green vegetables and salads.
If you like these recipes, you'll also like our essential keto recipe ideas.
Please share your favorite keto side dishes with us in the comments below and pin our photo to your ketogenic food boards...

Share or Pin it to Save for Later!